Customer Reviews
03/02/2021
Love It!!
I love the material and the ease of just throwing it on them without any problem (unless Jack wants to play tug...lol) We will definitely order more!! Thank you
Anonymous

United States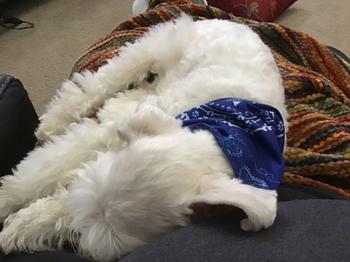 02/18/2021
Blue bandana
I love the construction and it looks so cute on my little one. Be aware though, I ordered 2 before this one that were her neck size and they were tight. I ordered up a size this time and they are just right.
Angie C.

United States
05/20/2021
Blue Bandana Pup Scruff
Love it! Bought the red and green also for my westie . Fits great!
Anonymous

United States
04/16/2021
Fantastic
Far better than another other's I have purchased for my pup...easy on, easy off and my pup loves showing off!!!
Kathy S.

United States
10/29/2020
Outstanding Scruff
Awesome,great,outstanding Freckles loves his!
Allan F.

United States
Add to Wishlist
Choose your wishlist to be added
Are you sure you want to delete the wishlist?